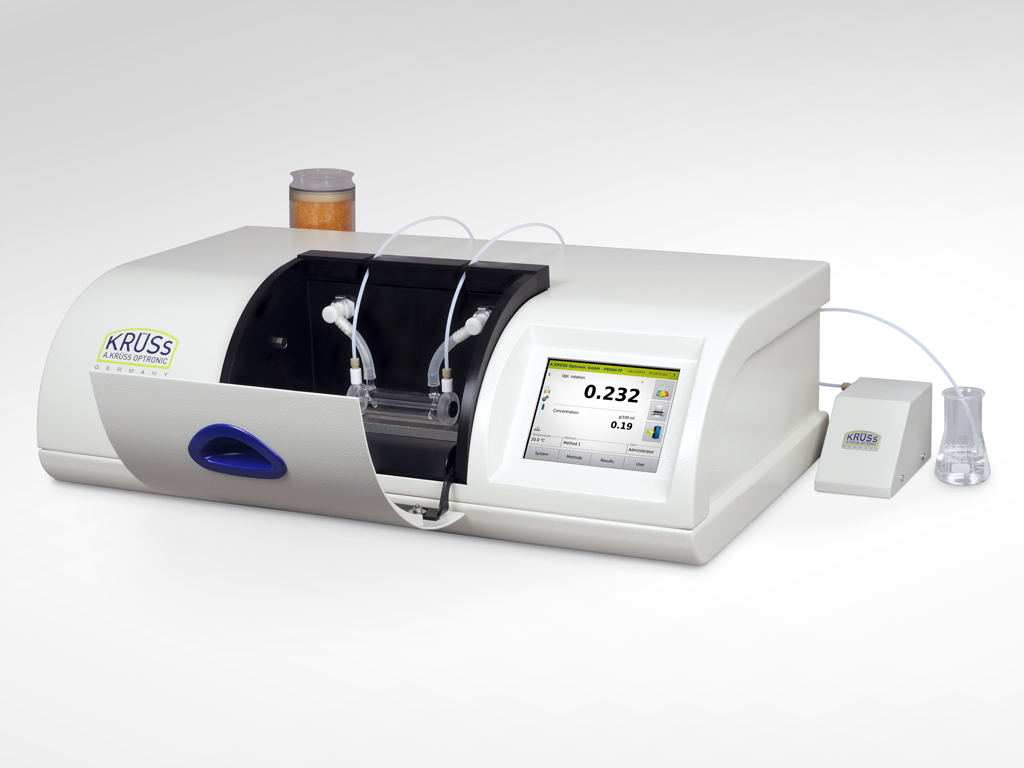 Automatic & Manual Models
Polarimeter instruments measure the angle of rotation of optically active substances. The measurement of the angle of rotation is an important quality control measurement and is commonly used in the pharmaceutical, chemical, cosmetic and food & beverage industries. Optical rotation measurement allows you to ascertain the identity and quality of substances as well as their concentration in mixtures. It can also indicate the progress of a reaction and conversions. For more information about optical Polarimeter technology and applications, click here to visit the A KRÜSS Optronic Campus.
A.KRÜSS Optronic manufactures a variety of optical polarimeter instruments to suit your laboratory needs, from industry and R&D to education. These include manual polarimeters, pharmaceutical polarimeters, sugar polarimeters, digital polarimeters, semi-automatic polarimeters and automatic polarimeters.
A.KRÜSS polarimeters offer a solution for any budget/application:
P8000 Series:  Professional Grade for Unparalleled Speed & Accuracy
The Fastest polarimeter instruments in the World! Only 1 second measuring time regardless of the sample's angle of rotation.
High measurement accuracy of up to +/- 0.002°
Measurement up to an optical density of 3.0
Reliable temperature compensation with solutions for any need:

P8000/8100 without temperature control (ICUMSA temperature compensation)
P8000-T/P8100-T with water bath temperature control
P8000-P/P8100-P with Peltier temperature control
P8000-TF/P8100-TF with water bath control and flow-through function

Easy-to-use interface with touch screen display
Pre-defined scales for optical rotation, specific rotation, International Sugar Scale content and concentration or define your own scales based on tables or formulas.
Easy filling and cleaning with options for manual, semi-automatic or automatic filling
Complete documentation of all measured values and parameters with flexible data export (printer, USB, Ethernet, RS-232).
User administration features with two authorized levels
Complies with 21CFR Part 11, GMP/GLP, USP, BP, JP, Ph. Eur, FDA, ISO, ICUMSA, OIML, ASTM, AOAC, NIST, HACCP
P3000 Series:  Economical yet Powerful for Many Applications
Economical solution for applications for which a measurement accuracy of +/- 0.01° is sufficient
Fast, 1 second measurement time like the P8000 Series Polarimeters
Reliable temperature compensation following ICUMSA sugar scale guidelines
Measured values displayed as optical angle of rotation (°) or on the International Sugar Scale (°Z)
Measurement up to an optical density of 3.0
Easy to use touchscreen display
Compliant with ICUMSA, USP, BP, JP, Ph. Eur, NIST, GLP, ASTM 
P1000-LED Polarimeter:  Best for Teaching & Basic Lab Applications
Ideal for basic lab applications and for training in industry and at the college/university.
Measures optical rotation according to the half shade principle
Measurement results are read through an eyepiece and two noniuses
Low maintenance with high performance LED with a life 2000 times that of a standard sodium discharge bulb
Includes 100 and 200-mm length measurement tubes with debubbler