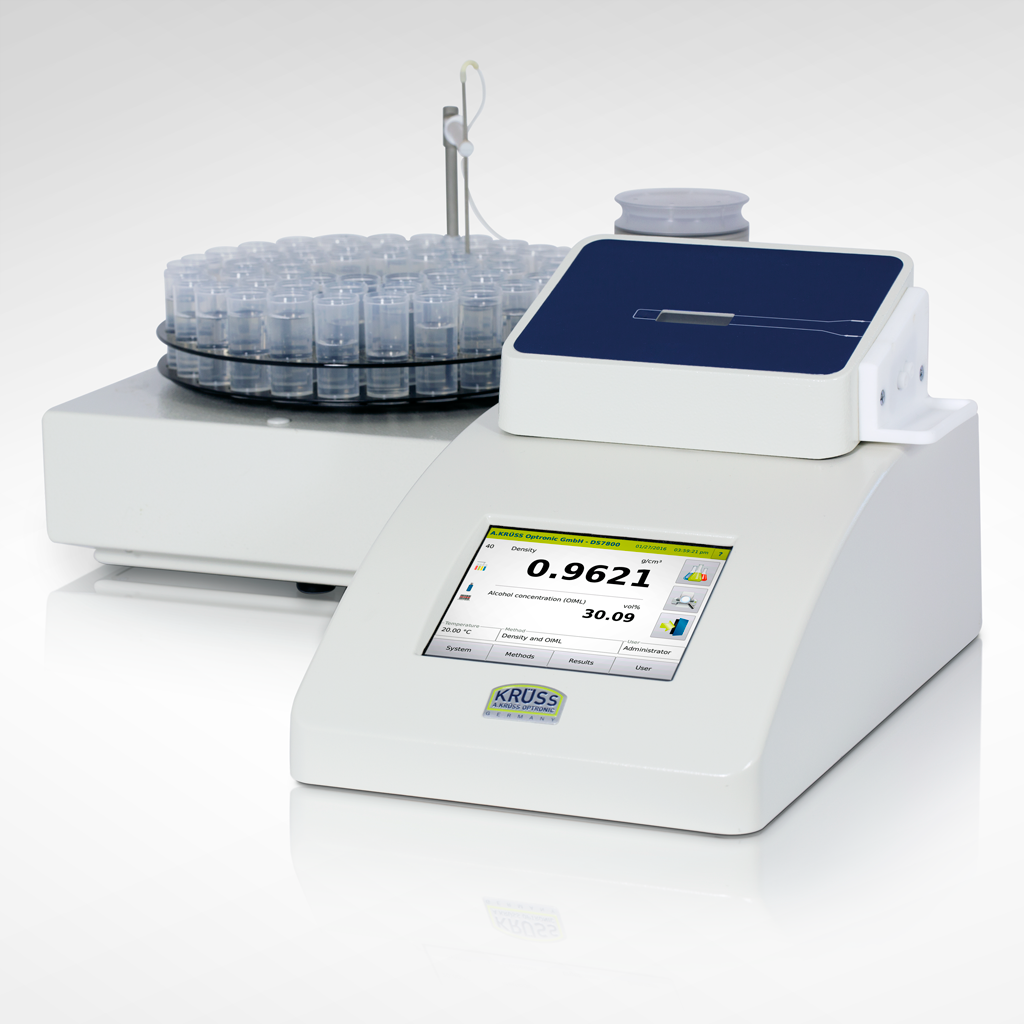 Oscillating U-tube Technology
The measurement of the density of an aqueous solution can be utilized to identify substances, to determine their quality or purity and to measure their concentration in binary or quasi-binary mixtures. It is a common tool utilized for quality assurance in the pharmaceutical, food & beverage, chemical and petrochemical industries.  A.KRÜSS Optronic Density Meters utilize the highly accurate oscillating U-tube method in combination with controlled temperature for measuring density.
Density Meter Options
DS7700 Model with an accuracy of +/- 0.001 g/cm

3

or DS7800 Model with an accuracy of +/- 0.0001 g/cm

3

Both models are available in the following sets:

Set 1 for manual sample introduction with any degree of viscosity

Set 2 for manual sample introduction of aggressive or highly viscous samples

Set 3 for semi-automatic sample supply and cleaning. This set comes with a syringe and peristaltic pump

Set 4 for automatic sample introduction for high numbers of samples of low to slightly viscous nature. This set comes with syringe, peristaltic pump and autosampler

Set 5 for automatic sample supply for high numbers of samples of aggressive nature.
Key Features
Easy-to-use, intuitive software with touch-screen display
Fast and reliable measurement with efficient Peltier control
Pre-defined scales for density, relative density, Brix, concentration of alcohol, concentration of sulfuric acid. Any number of feely definable scales with conversions based on tables or formulas
Requires only a small sample volume
Chemical resistant materials
Sample introduction via syringe, peristaltic pump or autosampler
Complete documentation of all measured values and parameters with flexible data export
Intelligent User Administration with two authorization levels
Compliant with global standards – GMP/GLP, 21 CFR Part 11, Pharmacopoeias (USP, BP, JP, Ph.Eur.), FDA, ISO, HACCP, OIML, ASTM, ICUMSA, NIST, AOAC