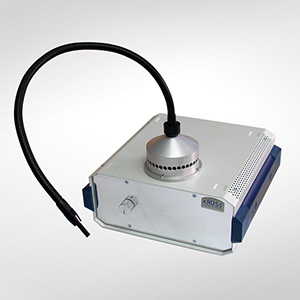 Illumination for Microscopes & Spectroscopes
A.KRÜSS Optronic offers three models in its KL series of fibre optic cold light sources. The KL5110 cold light source is the smallest in the range. This device is very economic and offers good performance for most basic applications. These light sources for microscopes or spectroscopes are especially useful for viewing living biological samples.
With standard halogen lighting, the heat generated by the light source could potentially harm or even kill the sample being viewed. These are capable of generating 3200 Kelvin light and other color temperatures without generating the levels of heat created by other sources. They also prove to be useful in gemological applications because they don't create shadows on multifaceted objects.
An external power supply with adaptor plugs makes it very versatile. Illumination is through a 7.7V, 20W halogen cold light source bulb with a colour temperature of 5500K. The KL5120 introduces brightness control without colour change, again from a 20W halogen bulb with a colour temperature of 5500K. The unit offers automatic voltage switching from 110-230V. The more powerful KL5125 also offers adjustable intensity at a colour temperature of 5500K, but from a larger 150W halogen bulb.
Model KL5110
Cold Light Source without light conductor
8 V 20 W, not adjustable
Power supply 100 to 240 V, i.e. can be used internationally
Constant 3200 Kelvin color temperature
Model KL5120
Cold Light Source without light conductor
8 V 20 W, adjustable
Power supply 100 to 240 V, i.e. can be used internationally
Brightness control using iris diaphragm therefore no change in color temperature
Constant color temperature: 3200 Kelvin
Model KL5125
230 V Cold Light Source without light conductor
150 W halogen lamp
Color temperature of 3200 Kelvin
Electronic brightness control