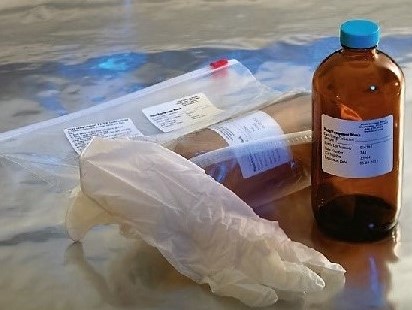 Certified Sampling Kits for EPA 1631E
Trace, or Low Level, metals analysis, such as mercury analysis by EPA Methods 245.7 and 1631E, requires that extra steps be taken to prevent contamination. Every step in trace metals analysis, including sample collection and sample preparation, must be completed without contamination due to the extremely low detection limits required for these analytical methods. The samples must be collected using EPA Method 1669 as a guide to prevent contamination during the collection process.
Among the most typical EPA metals analysis methods used across multiple industries are inductively coupled plasma mass spectrometry (ICP-MS) and inductively coupled plasma optical emission spectrometry (ICP-OES). Some of the most common applications for ICP trace metal analysis include:
Checking for trace amounts of heavy metals in cosmetics and other consumer products
Screening for residual metals in plastic components used in medical device manufacturing
Evaluating the purity of process chemicals used in semiconductor production
Often, the use of mercury analyzers is necessary to facilitate testing for trace metal contamination. In addition to mercury, other metals — such as cadmium, arsenic and lead — can be detected at low levels with this type of testing.
AGS Scientific can assist you with sample collection and reagents designed specifically for the stringent requirements of trace metals analysis. We offer products including Sample Collection Kits and EPA 1631E Reagent Kits, as well as other Trace Metals Grade Acids, trace metal analysis tubes and more that are all certified for trace metals analysis. These are used across a wide spectrum of industries where there can be no chance of these metals contaminating a product or interacting with other chemicals used in the production process. Our expertise with these procedures means we can provide you with everything required to obtain the most accurate results. Contact us today to get more information.