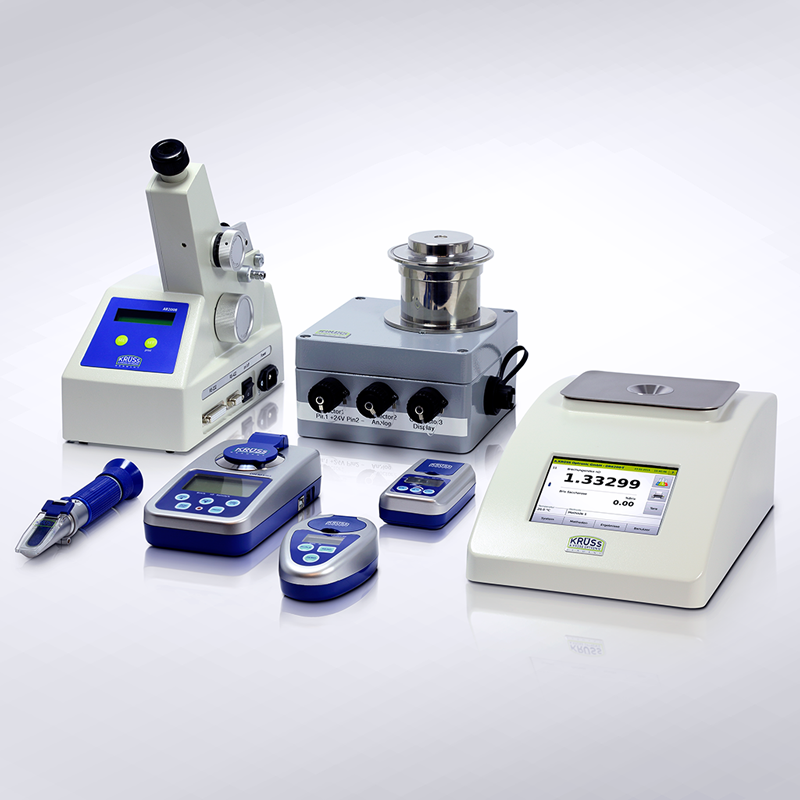 Portable, Benchtop & Process Models
Refractive index is an important parameter used in determining the quality, quantity, purity or mixing ratio of a chemical substance. It is a common measurement used by a variety of industries – chemical, food & beverage, cosmetic, flavors and fragrances, pharmaceutical, metal working, petrochemical, education/research and environmental. Krüss manufactures a wide variety of Krüss refractometer models to suit your needs from digital to manual hand-held portable refractometers.  Each group of refractometer products are listed below.
Digital Refractometers:
Key Features of the DR6000 Series Digital Refractometer
Very fast and reliable measurement
Measurement of turbid and highly viscous samples
Four different digital refractometer models available depending on accuracy needs and measurement range requirements
Ranges include nD 1.32000 to nD 1.70000 +/- 0.00001; 0-95% Brix / User-defined scales are also available
Fast and accurate Peltier temperature control (10 to 80°C) or Temperature Compensation (ICUMSA or freely definable)
Chemically resistant materials such as sapphire prism
Intuitive operation via touchscreen display
Complete data recording and backup including audit trail
User authorization levels
Conforms with National and International standards such as 21 CFR Part 11, GMP/GLP, ICUMSA, ASTM, ISO, AOAC International, USP, BP, JP, Ph. Eur, OIML, ISO, DIN, OIV, AOCS and more
---
Abbe Refractometers:
Abbe refractometers measure the refractive index based on the principle of the total reflection that occurs at the boundary between a prism and a sample. They are ideal for the measurement of the refractive index of solid samples such as glass, plastics, polymers as well as foils, pastes and viscous liquids. A.Krüss Optronic carries two Abbe Refractometer models.
Determine refractive index between nD 1.3000 and 1.7200 and the sugar content in the range of 0 – 95 % Brix
Scales are adjusted manually using the drive knob and the measured value is read through the eyepiece
Integrated digital thermometer shows temperature on the LCD display
Temperature control is available via an external circulating water bath (not included) such as the Krüss PT31 or PT80
Digital LCD display of refractive index or Brix value together with the temperature
Automatic temperature compensation feature
Measurement range of 1.3000 to 1.7200 nD; 0 to 95% Brix
Designed for harsh environments
Thermostat connections for both illumination prism and measurement prism
Serial RS-232 and RS-422 interfaces
Temperature control is available via an external circulating water bath (not included) such as the Krüss PT31 or PT80
---
Process Refractometers:
Accurate Results for Automatic and Continuous Process Control
A.Krüss Optronic offers both "In-Line" and "At-Line" for monitoring refractive index in a process environment:
For Features, Specifications and Applications for these Process Refractometer models see the links below or contact your AGS Sales representative:
Inline Refractometer Information
Atline Refractometer Information
---
Digital Handheld Refractometers:
A.KRÜSS Optronic Digital hand-held refractometers are ideal for mobile use and have a large measurement range. Use a digital handheld refractometer to inspect incoming goods, optimize quality assurance and reduce work processes. They are lightweight and easily fit in a lab coat pocket. There are three models to choose from:
DR301-95 Key features:
The most advanced digital hand-held model with many features and functions found in the standard laboratory model
Large measuring range and high precision: nD 1.3330 to 1.5318, 0-95% Brix
Choose from refractive index scale, sugar scale, salt scale plus the ability for programming 2 User-defined scales
Use the 9-volt battery option for mobility or the optional power supply to convert it into a small laboratory unit
Easy to calibrate with water
Temperature compensation for Brix measurements from 5 to 40 degrees C
Robust casing, light weight and easy to clean
USB Interface allows for sending data to PC or printer
Alarm option for monitoring limit values in production
DR201-95 Key Features
Compact digital handheld refractometer which eliminates errors caused by misreading a manual refractometer
Wide measuring range on the refractive index scale (1.3330 to 1.5318 nD) and the sugar scale (0 to 95% Brix)
Splash proof and meets IP64 Standard
Easy to calibrate with water
Rugged case and low maintenance
Temperature compensation from 10 to 40 degrees C for measuring sugars in beverages and confectionaries
5 V battery lasts for over 1000 measurements
DR101-60 Key Features
Good entry-level model with measurement range of 1.3330 to 1.4419 nD, 0 TO 60% Brix
Low cost and low maintenance
Waterproof case allows the unit to be rinsed under running water and meets IP65 Code
Temperature compensation from 10 to 40 degrees C for Brix measurements
Easy to calibrate with water
Click the following link for more information Digital Handheld Refractometer Information
---
Handheld Refractometers:
Handheld refractometers are barely larger than a flashlight and can be used just about anywhere. They are easy to use, very robust and require no batteries. The models will differ based on their application such as the determination of salt content (salinity), water content in honey, Brix, alcohol content, urine and serum specific gravity, Oechsle, antifreeze and battery acid.
Key Features:
Small size for mobile use
Automatic temperature compensation for all models
High resolution of the scale areas
Robust and compact design
Easy calibration and adjustment
 Model Specifications
Model

Scale
Range
Accuracy

Application

HRB10-T

Brix
0 – 10% Brix

+/- 0.1% Brix

Sugar content in fruit, grapes, juices, vegetables, foods and cooling fluids

HRB18-T

Brix
0 – 18% Brix

+/- 0.1% Brix

Sugar content in fruit, grapes, juices, vegetables, foods and cooling fluids

HRB32-T

Brix
0 – 32% Brix

+/- 0.2% Brix

Sugar content in fruit, grapes, juices, vegetables, foods and cooling fluids
HRB62-T
Brix
28 – 62% Brix

+/- 0.2% Brix

Analysis of chemical and technical fluids, e.g. oils, greases, radiator fluids and lubricants
HRB82-T
Brix
45 – 82% Brix
+/- 0.2% Brix
Analysis of highly concentrated sugar solutions as well as chemical fluids like fats, radiator fluids and lubricants
HRB90
Brix (with thermometer) 6 – 36°C
0-90% Brix
+/- 0.2% Brix
Universal Handheld refractometer for determining sugar content of fruits, grapes, juices, vegetables, foods, oils, coolants, lubricants and other sugary substances
HRB92-T
Brix

Baume'

Water content in honey

58 – 92% Brix

38 – 43 °Bé

12 – 27% Water content in honey

+/- 0.5% Brix

+/- 0.5°Bé

+/- 0.5% Water in honey

Examination of highly concentrated sugar solutions; analysis of fats and lubricants and foods; Water content of honey;

Relative density with respect to Baumé scale

HRH30-T
Water content in Honey
12 – 30% Water content in honey
+/- 0.1% Water content in honey
Examination of the water content of honey
HRND
Refractive Index
1.3330 – 1.5170
+/- 0.0005
Universal handheld refractometer for refractive indices. Measuring range covers the most frequent substances of Pharmacy requirements
HRS10-T
Salinity (NaCl)

Specific gravity

0 – 10%

1.000 – 1.070

+/- 0.1%

+/- 0.001

Salt content determination in liquids such as seawater, beverages and preservatives in foods; Determination of the specific density of liquids at 20°C with respect to water
HRS28-T
Salinity (NaCl)
0 – 28%
+/- 0.2%
Salt content determination  (NaCl) in liquids such as seawater, in beverages and in preservatives of food
HRM18-T
Refractive index

Serum protein specific gravity

Urine specific gravity

1.3330 – 1.3600

0 – 12 g/dl

1.000 – 1.050 UG

+/- 0.0005

+/- 0.2 g/dl

+/- 0.002 UG

Examination of urine samples for refractive index, protein content and specific gravity
HRO32-T
Brix

Oechsle

Potential Alcohol Content

0-32 % Brix

30 – 130 °Oe

4.4 – 19% alcohol

+/- 0.2% Brix

+/- 1 °Oe

+/- 0.1% alcohol

Examination of grape must and alcoholic beverages
HRKFZ-T
Ethylene and Propylene glycol (antifreeze)

Battery acid

-50 – 0°C

1.10 – 1.30 g/cm3

+/- 5°C

+/- 0.01 g/cm3

Determination of glycol content in coolants;

Determination of acid content in batteries