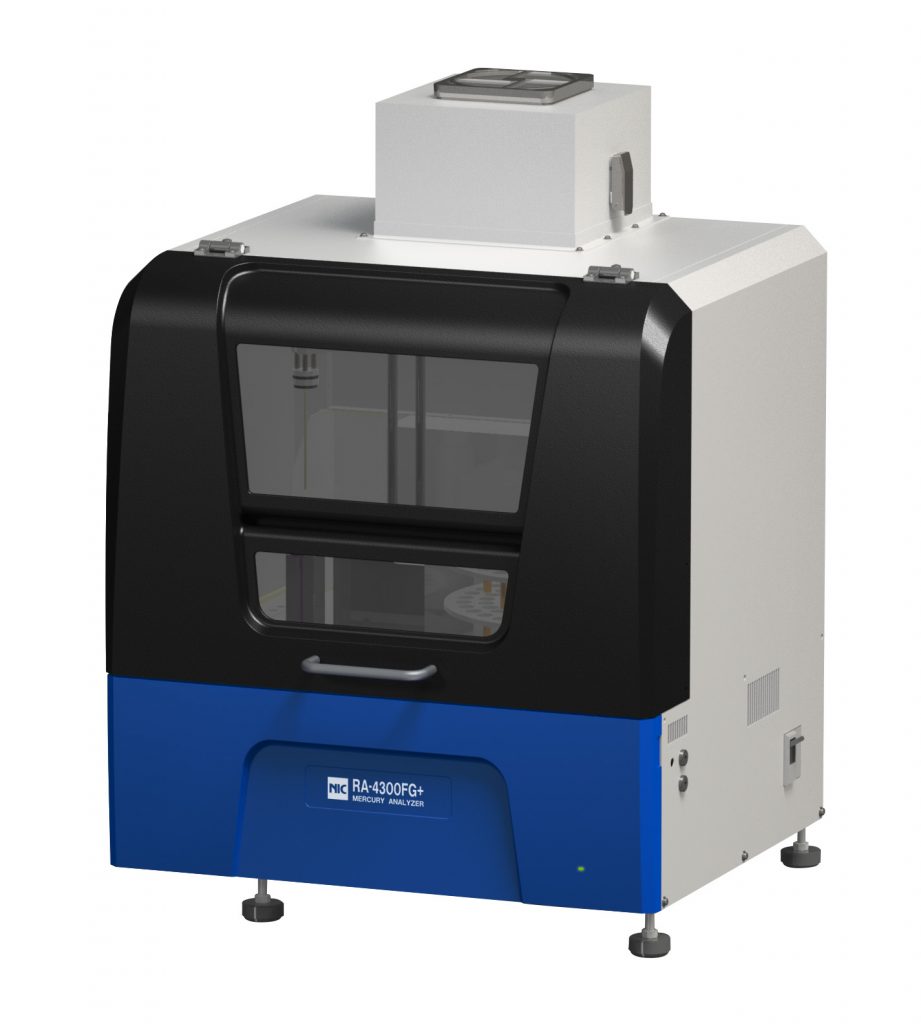 Ultra-Trace Mercury by EPA 1631E & EPA 245.7
The NIC RA-4300FG+ Mercury Analyzer is a highly sensitive and simple to operate ultra-trace level mercury analyzer. Compliant with US EPA 1631E & EPA 245.7, the NIC RA-4300FG+ operates on the principles of reducing vaporization, with or without gold-amalgamation, and cold vapor atomic fluorescence spectroscopy (CVAFS). The fully enclosed system with included HEPA/Carbon filtration ensures that your samples are protected against outside contamination and reduces blank levels. With simple, user-friendly software, the RA-4300FG+ is designed to simplify and exceed your trace mercury analysis requirements. The system offers an additional level of automation by allowing automatic addition of both the BrCl and Hydroxylamine reagents for sample preparation.
This compact unit provides full CVAFS mercury analysis while also being user-friendly. For example, daily inspection for equipment stability is completely automated. Peaks for mercury and other substances are identified automatically, as well as the validity of calibration curves. In addition, it can share tubes with other analyzers, resulting in lower operating costs.
RA-4300FG+ Mercury Analyzer Key Features:
US EPA Compliant for EPA 1631E & EPA 245.7

Detection limits: 0.1 ppt to 100 ppb by Atomic Fluorescence Spectrometry (CVAFS)

Discrete, direct purge of mercury from each sample; simplifying operation while eliminating carryover and reducing waste

Capable of operating with or without Gold-Amalgamation

Automatic dispenser ensures consistent and safe addition of reagents

Built-in reagent purging system

Automatic sample preparation and analysis

Advanced Quality Assurance software protocols for US EPA methods 245.7 & 1631E

No clean room required – includes a HEPA controlled enclosure

> 80% less waste over flow injection instruments
Why Buy From AGS Scientific?
AGS Scientific is proud to offer the best equipment on the market and the expertise to provide the proper solution for your needs. Our in-depth knowledge means you can be confident that whatever product you purchase from us should be the ideal answer to your specific requirements. If you'd like to learn more about what we can do for you, reach out and speak with one of our representatives today.
Additional Resources
Application – Trace Mercury Analysis