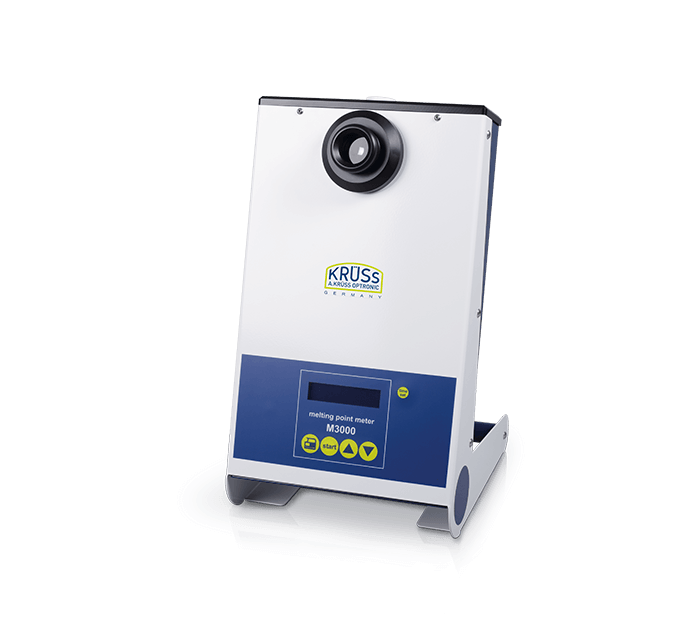 Automatic, easy melting point measurement
A.KRÜSS Optronic offers two models in its series of Melting Point Meters for analyzing the melting point of powdery substances. The A.KRÜSS M5000 is automatic, easy to use, and lightweight, with on-screen instruction prompts and temperature control accessed via a LCD display. The M3000 is a semi-automatic digital melting point apparatus that can measure up to three samples at one time.
When compared to heating and observing samples manually, these melting point analyzers offer numerous advantages. Not only do they perform this type of test in less time, but they also significantly reduce the risk of potential human error. These are the features that make this melting point measurement equipment essential for laboratories. Read on to learn more about the specifications of these melting point instruments.
Key Features of the A.KRÜSS M5000 Melting Point Meter
Determine melting points of powdery substances up to 400 °C
Fully automatic measuring
Alarm signal when it reaches melting point
Easy-to-read digital display of all important data
Printer option available
1 capillary intake
IP20 protection rating
Key Features of the Model M3000 Melting Point Meter
Semi-automatic measurement of melting point using 10X optics
Measure up to 3 samples at one time (triple capillary intake)
Measurement range from 30 to 360° C
Fast measurement at any temperature range
Digital display and easy-to-use membrane keypad
RS-232 interface to small printer (CBM910)