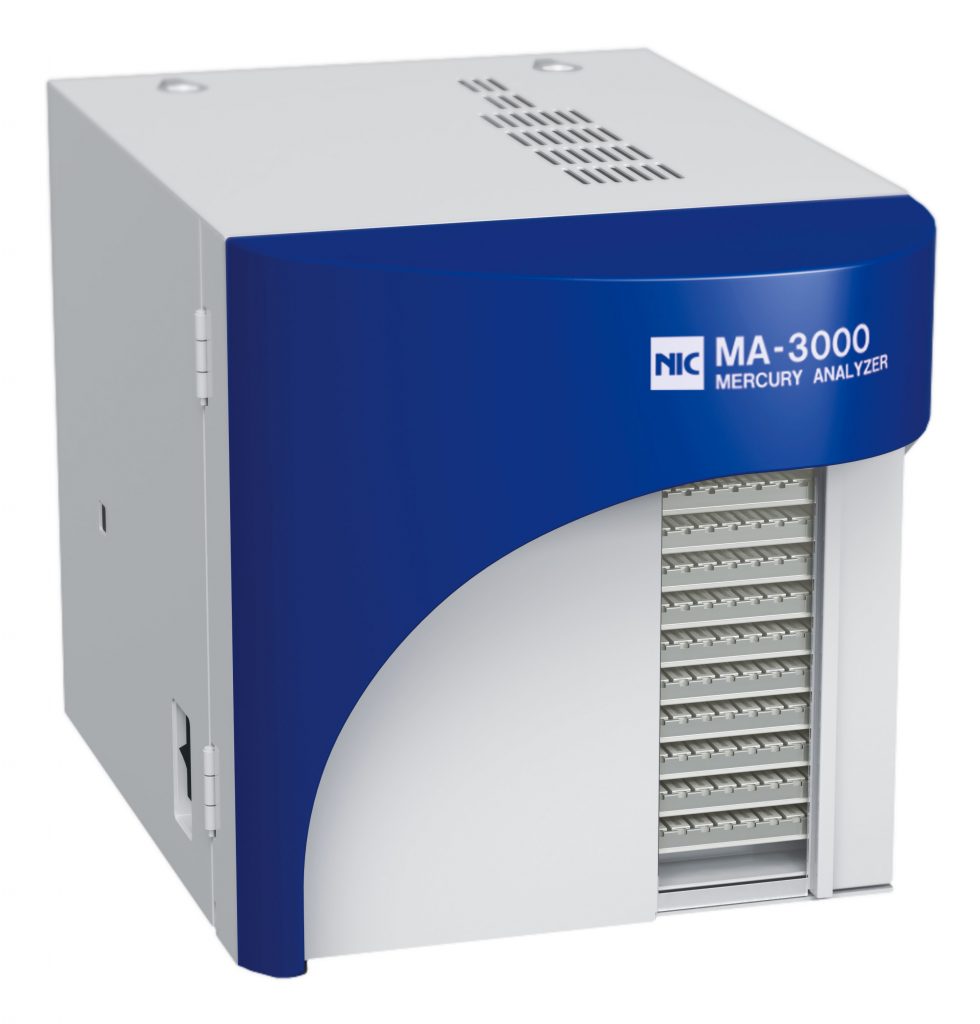 Direct Hg by Thermal Combustion
The NIC MA-3000 Direct Mercury Analyzer determines total mercury in Solid, Liquid and Gaseous matrices using the principle of thermal decomposition, gold amalgamation, and atomic absorption in accordance with USEPA 7473, ASTM D-6722-01. No pretreatment of samples is required.
MA-3000 Direct Mercury Analyzer Key Features:
Direct Mercury Analyzer with results in approx. 5 Minutes

Extended Dynamic Range Optics (Patent-pending) 0.001ng-2000ng linearity and cubic fit up to 70,000ng in a single calibration

Unique Dual-Cell Detector (Patent-pending)-Auto Range with Independent Detectors

100 sample positions

Positive pressure sample container prevents contamination

Optional Attachments for Reducing Vaporization Method and Gas/Ambient Air Analysis

Tri-photo sensor optics (patent pending) design offers simultaneous low and high concentration range measurements, avoids cross over and co-elution of high and low peaks, which is inherent in other dual-cell detector design

Special moisture removal step helps to avoid catalyst overloading and saturation while extending the lifetime of catalyst tube

Ceramic sample boats allow for easy acid-washing and drying

Auto-blanking function on unexpected high level measurement to avoid carryover to next samples
The MA-3000 offers numerous advantages over other mercury analyzers. These include:
The lowest detection limit and practical quantitation limit (PQL) available in a commercial direct mercury analyzer. With a method detection limit of less than 1pg (.001 ng), and a practical quantitation limit between 10 and 20 pg (.01 to .02 ng) the NIC MA-3000 is the most sensitive direct mercury analyzer in the market. We achieve this through a high-quality Hg-discharge light source, top-of-the-line transmittance mirrors, and three independent detectors.
The widest linear range and overall dynamic range in a commercial direct mercury analyzer. With a linear range up to 2,000ng Hg and a Maximum Dynamic Range up to 70,000 ng Hg, achieved through dual-cell, tri-detector optics, the MA-3000 mercury analyzer offers a seamless measurement range with precise calibration.
Numerous value-add, user-friendly features. These features include an easy-to-use visual software interface; a sequence table built on Excel; a programmable auto-blanking function to eliminate outlier measurements; diagnostic monitoring and alerts; and maintenance tracking to warn users before analyzer components need to be replaced.
Cost efficiency and dependability. The MA-3000 is built with premium quality components — including a long-lasting catalyst; a robust gold amalgamator built from proprietary construction; and ceramic boats that do not need to be replaced as often as nickel or quartz boats. We also provide replacement catalysts and gold amalgamators with a new installation so that you do not need to invest additional replacement costs for the first 2-3 years of operation.
Why AGS Scientific?
When purchasing from AGS Scientific, you gain access to our decades of experience in tailoring solutions; expertise across a broad range of industries in which mercury analysis is required; and signature benefits such as our full demonstration and training during equipment installation. We guarantee your satisfaction, and we will work with you to remedy any issues that may arise today or several years into the future.
Additional Resources (Click Below to Open)
Application – Mercury in Lichen