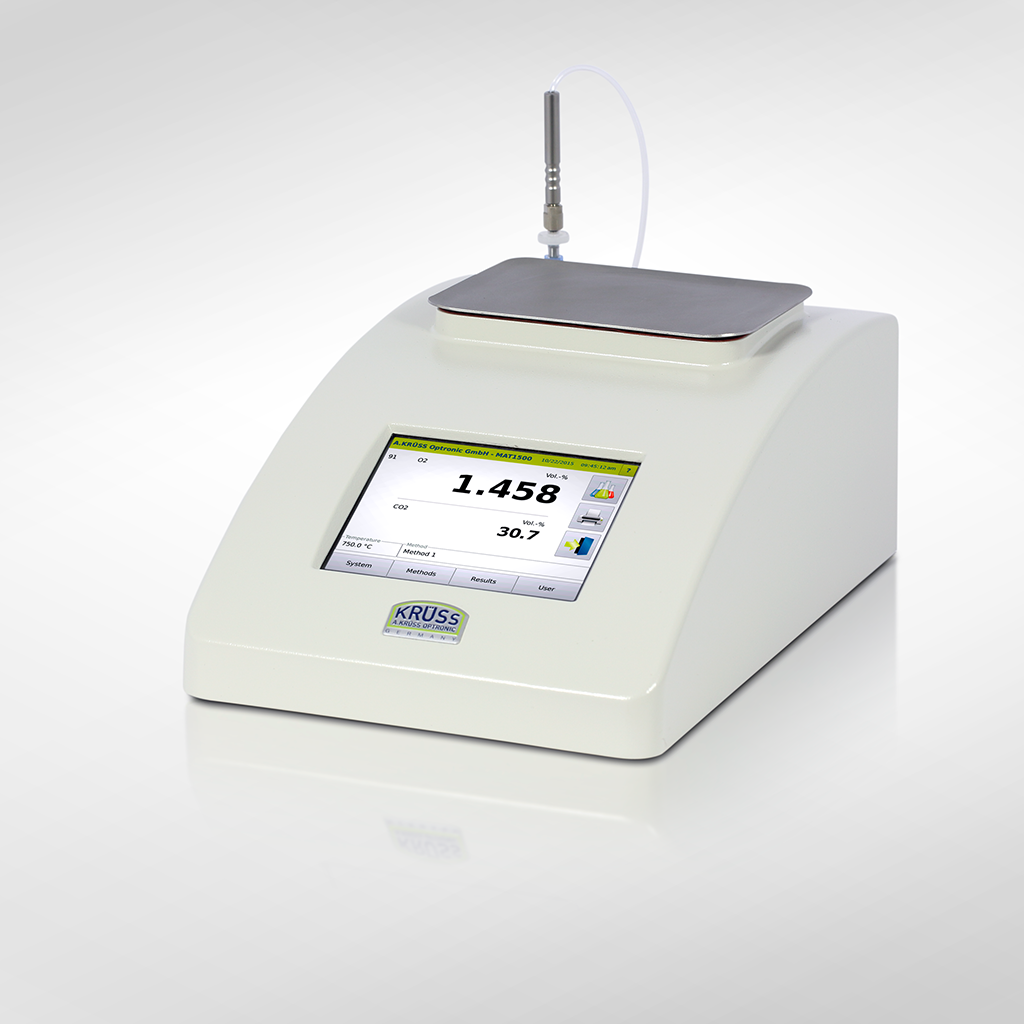 For Modified Atmosphere Packaging (MAP)
MAT1000 Series Gas Analyzers
The MAT1000 Series of gas analyzers are designed to measure nitrogen (N2), carbon dioxide (CO2) and Oxygen (O2) levels in the MAP packaging used for food products, electronics, pharmaceuticals and cosmetics.  For more information about gas analysis technology and applications, click here to visit the A KRÜSS Optronic Campus.
The MAT1000 series of gas analysis instruments is ideal for use in the quality assurance laboratory and on the production line where perishable products are filled or packaged. They are suitable for both random sampling and the permanent monitoring of a gas mixture used in packaging machines. Utilizing a range of different sensor types, digital gas analyzers serve a critical role in making sure MAP packaging serves its purpose for keeping products free from contamination and ensuring their freshness on store shelves. When used on MAP packaging, these devices provide peace of mind for manufacturers and packagers.
Operation of these instruments is relatively simple. Operators apply a self-adhesive septum to a sampling point on the MAP packaging. A suction needle is inserted through the septum into the package's headspace. The sample is drawn in automatically, and the results are displayed on the screen within moments.
Key Features
Four Models available for any need

MAT1100: 0.5 to 30% O2
MAT1200: 5 to 30% O2 and 0 to 50% CO2 (N2 by residual gas of mixture)
MAT1400: 0 to 100% O2
MAT1500: 0 to 100% O2 and 0 to 50% CO2 (N2 by residual gas of mixture)

Easy-to-use touchscreen control – even by untrained personnel
Low drift sensors (EC, NDIR, ZrO2)
Only a small sample required
Short measurement period (5 to 10 seconds)
Built-in air pressure sensor and integrated flow rate and temperature control
Interface package for convenient transfer of measured values (USB, Ethernet, RS-232)
Intelligent User Administration with optional password protection
Complete documentation of all measured values
Compliant with global standards such as 21 CFR Part 11, GMP/GLP, Pharmacopoeias and ASTM