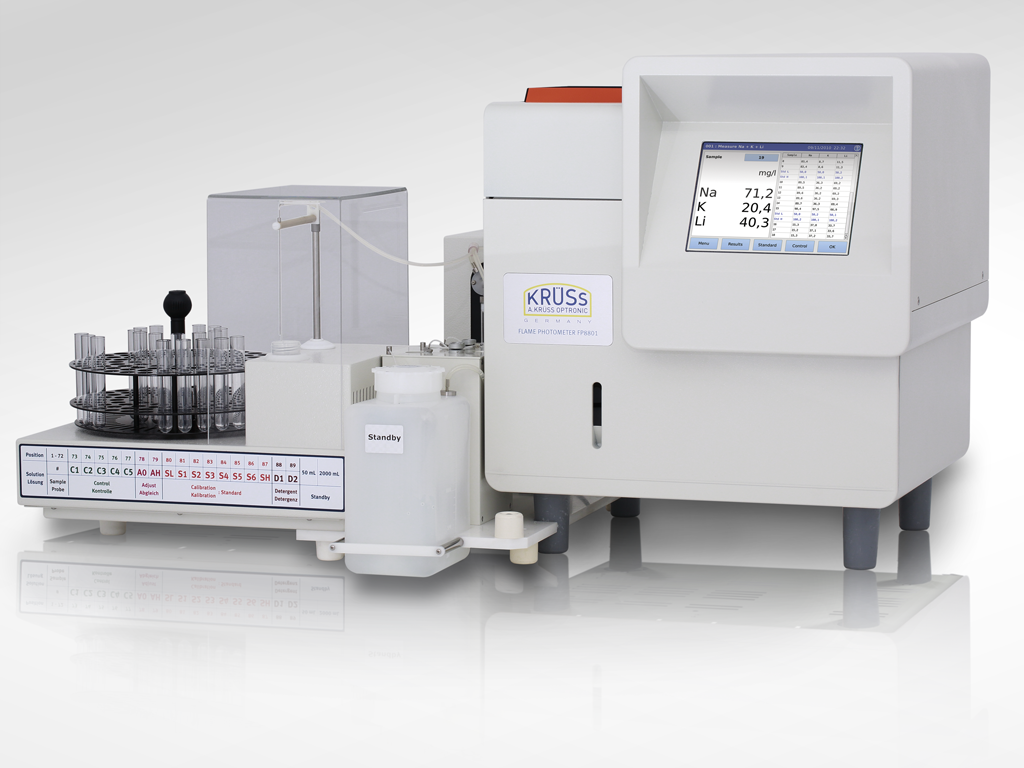 Determination of Alkali Metals
The A.KRÜSS Optronic Flame Photometer FP8000 Series allows for the simple and cost-effective determination of alkali metals such as Na, K, Li, Ca (and others) in aqueous solutions. Both laboratory and process models are available. The FP8000 Series apply a relative measurement method according to the principle of flame atomic emission spectroscopy (F-AES). They are an excellent alternative to analysis by ICP or F-AAS for the alkali metals, especially in complex aqueous matrices which may be affected by ion suppression. Flame photometry is considered the reference method for Na, K, Li and Ca.  For more information about Flame Photometry technology and applications, click here to visit the A.KRÜSS Optronic Campus.
Equipment quality and accuracy are critical in flame photometer applications, and the A.KRÜSS flame photometer is a top-of-the-line solution for precise and fast measurement in pharmaceutical or clinical flame photometer and process applications.
A.KRÜSS flame photometers are backed by the A.KRÜSS brand name, established in 1796 and recognized today a standard-bearer for quality, and a leader in innovation and R&D. Flame photometer function must be reliable, consistent and repeatable. We are pleased to offer our satisfaction guarantee for this flame spectrophotometer.
Key Features:
Reliable, simultaneous measurement of the elements Na, K, Li and Ca
Five available measurement channels with high precision over a broad measurement range
Easy transfer of applications from aging Eppendorf ELEX 6361 and IL943 Flame Photometers
Fast measurement – up to 300 measurements an hour! Highest in the industry
High safety standards through intelligent operational safety systems
Easy to use digital flame photometer, with intuitive software using a large touchscreen display and USB mouse
Traceability of all measured data and device specific data
User administration feature with two authorized levels
Complies with 21CFR Part 11 and GMP/GLP
Four models to choose from:

FP8400 Standard Laboratory Version
FP8500 Process Version
FP8600 Automated Sample Feed
FP8700 Automated Sample Feed and Dilution